Metakomm team event November 22/23, 2021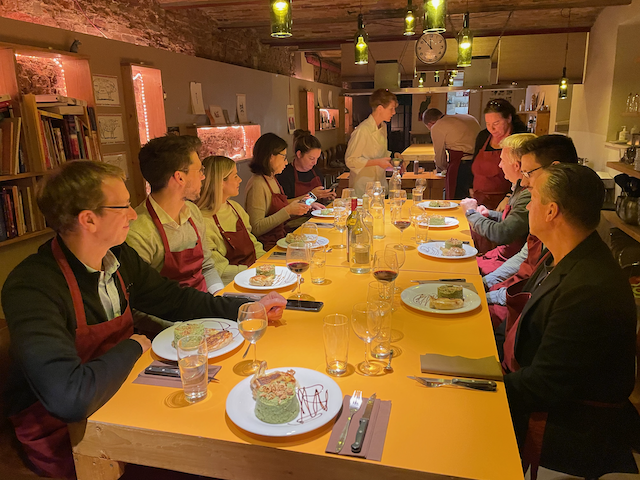 Every morning we started the day with a negative Covid test, being twice vaccinated. We as Team Metakomm were happy to be able to organize an exciting two-day team event in Berlin after a long period of mostly virtual collaboration.
In 'art decor' conference rooms, which didn't miss out on the old Berlin charm, we started the first day with warm hugs and a short introduction. To our amazement, the first personal contact for some of us already felt familiar. Nevertheless, we were happy to finally be able to assign a body to where previously there was only known a face.
The focus of the first day was a short review of a very successful year 2021 with many great customer projects, working with Teamscope and an exciting lecture with a discussion about the new HR trends. Teamscope is a scientific data collection tool that offers decision support for team development, recruitment processes and succession planning.
After working with Teamscope with some customers, it was overdue to do it ourselves. And as expected we gained a lot of insights into our team's strengths and weaknesses. We have found that we have a high level of agreement on our basic values ​​(e.g. on the values ​​of creative freedom and the need to work closely and loyally in a team and to support one another in a positive way). In terms of our competencies and personality traits, we as a team are very 'diverse', e.g. in the personality trait 'openness' we cover everything in the team, from very pragmatic to very creative. This can be extremely helpful for successful teams and the problem-solving competence for our customers, as long as we use the differences as strengths and bring the right colleagues together with the customer requirements and projects. We believe we succeeded in doing this very well in 2021. We agreed that Teamscope will play an important role in working with future clients.
Dealing with the latest HR trends gave us a lot of inspiration for new projects and opened up innovative perspectives with which we want to actively support our clients in the future. More on this in a later post.
We ended the first day of the team with a joint cooking evening in the 'Ratatouille', where we prepared delicious French dishes together and had time to get to know each other better in a cozy atmosphere. The pronounced internationality in our team opened up interesting discussions about various cultural aspects. The diversity of the age of our team also enabled us to have an exciting exchange about different points of view, as well as similarities.
The second day of our team meeting began with a delicious breakfast and funny anecdotes: How do you know that you are working in a very international team at Metakomm? The fact that you greet a German-speaking team member with a cheerful "Good morning, did you sleep well?" and then switch to German in confusion.
Before the content continued, we did an 'energiser', Tiger / Granny / Samurai, super funny and with a lot of team spirit. If you want to find out more, please contact us.
The focus of the second day was a look into the future of the exciting projects that are already awaiting us in 2022. We have some very interesting new European medium-sized companies in our portfolio and want to expand this further.
We were also happy to get a first look at the video clips and the design of our new Metakomm website, which will appear at the beginning of the new year. We exchanged ideas in small groups and ended the day with the prioritization of new projects and strategies, which we are already looking forward to implement. We all agreed that the two days we spent together passed too quickly and we said goodbye to each other as warmly as we had greeted each other on the first day.
Many thanks to the Metakomm team, their most valuable different perspectives, the productive and committed cooperation and the warm atmosphere that accompanied us during these two days. We look forward to seeing us again soon in the hope that we will quickly get the fourth Corona wave under control, and we will end this year with great ideas, energy and a lot of anticipation for the next year!