Digital and Cultural Transformation
A hand-picked group of 12+ delegates actively participated in Amazon Web Services's (AWS) and Metakomm's first workshop on 'Digital and Cultural Transformation' in Berlin on 6 March.
Chris-Markus Kratz from AWS focused on the 'New Normal' and shared the example of 'Microservices' which improves the buying experience of on-line customers. He summed it up as
'Digital Transformation = Business Transformation + Digital Innovation'
Christoph Grandpierre from Metakomm shared some insight into today's start-up landscape in Germany, and spoke about the disruptive power of start-ups globally challenging long-existing business models including company culture. Companies are using different organizational models and teams to deal with the cultural transformation, and leaders need to acquire new skills to be successful in leading it.
Discussions in the plenum and in workout groups brought up a high level of best practice sharing, examples of successful digital and cultural transformations, and both strategic and hands-on tips.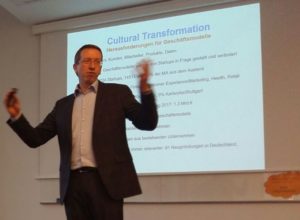 If you are interested in learning more about digital and cultural transformation and/or participating in any future event, feel free to follow us or contact us.